Bronimina

The Broniminan Empire's national flag
Basics
Name
Bronimina
Out of character
Creator
Demonsul
Bronimina is a fictional continent created by Demonsul. It is situated in the north, and the majority of the landmass is covered in ice all year round.
Geography
Edit
Bronimina, being a massive northern continent, is half-covered in ice, half-covered in plains. Dividing it down the center is a mountain range known as the Barrier Mountains. The northern ice fields are known as the Ice Wastes, and the lush south as just the Plains, as they have many sub-areas such as the Plains of Life, the Plains of Blood and the Plains of Solstice.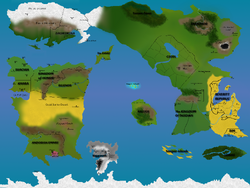 A map reveals that Bronimina appears to have small territory, but the Ice Wastes continue on west for some distance. The entire landmass to the west of Bronimina is a selection of small protectorates, each officially part of the old Broniminan Empire. However, due to recent economic fluctuations, they are not shown on the World Map as such for tax reasons.
The Barrier Mountains are the mineral rich source of much of Bronimina's power. They are very tall thin mountains, difficult to cross. Several dwarf colonies live in he mountains, making up 8% of Bronimina's 12% non-human population. The dwarves pay homage to the Emperor, but mostly go about their own business. There are very few human settlements on the Barrier Mountains.
To the north of the mountains, the Ice Wastes extend form miles. The ice sheet plains give way to treacherous shattered lands, making travel almost impossible. So little rain and snow falls, the Ice Wastes are classed as a desert. here are several human cities in the ice, mostly situated on top of stone tables hidden in the ice. There are also a number of hidden shamanistic bands, old forgotten castles and other such fantasy paraphernalia. However, there is so much ice in the Ice Wastes, that it is almost impossible to find them if not magically or technologically orientated. many an explorer has disappeared forever into the Ice Wastes from simply not being able to find anything other than ice.
The Plains, on the other hand, are full of life. The Plains of Gold, an area of mineral-rich grassland right up close to the mountains, has the second highest density population in Bronimina, as the massive settlement collaborations combine together to strip-mine the land. The Plains of Terror, a wasteland devastated by technological warfare, is the least densely populated, as anyone who sets foot in the blasted land often catches radiation poisoning.
The Snow Peninsula, a huge south-stretching finger of ice, is technically part of the Ice Wastes, however common snowfall results in many freezing cold lakes and erosion of the typical 'shattered' appearance of the ice. On this peninsula, the capital of the Imperial Fort rests. The industrial center of Baizun also is part of the Snow Peninsula.
-TBC-