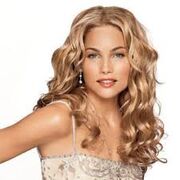 An image link goes here.
Character Name
Name
Beth Jensen
Species
Vampire
Sex
Female
Age
18
Roleplay Information
Name
The roleplay site the character is from.
Genre
Fantasy, Medieval
Type
Chat, Forums, etc.
Appearance
Edit
The Basics
Edit
Hair: Gloden blonde
Eyes: Deep blue
Build: Petite, slender
Height: 5'2
Weight: 120lbs.
The Details / Identifying features
Edit
Has a rose tatoo on her left arm, 'Seductress' on her right and a flame on her stomach.
Inventory
Edit
Clothes / Armor
Edit
Jeans
Tight fitting crimson halter top
Converse
Gold earings
Bangles
A ruby studded belt that holds blood.
Personality
Edit
Beth is kind and loves kids. She has few enemies.
Josef
Her family
Oreos
AB Negative
Doing her hair
Flying
Annoying vampires
The sun
Graffiti
Lip piecings
Garlic
Marital Status
Edit
Engaged to Josef Tallya
Jane Jensen (mother)
Thomas Jensen (father)
Trevor Jensen (brother)
Isabella Jensen (sister)
John Jensen (brother)
Christina Robertson (sister)
George Robertson (brother in law)
Katalina Robertson (neice)
Ricardio Robertson (nephew)
Skills and Weaknesses
Edit
Physical Strengths
Edit
Turning into a bat is pretty handy.
Skills and Education
Edit
Beth has been homeschooled and is just a normal vampire chick.
Weaknesses
Edit
She, like any other Vampire Kisses vampire, is afraid of garlic.
Childhood
Edit
Beth is the second Jensen kid. She grew up with four other siblings and knows how to cope with lots of people. She has an arranged 'marraige' to her best friend Josef. She loves her Pomeranian Sookie and spoiled it like crazy. When she was 13 her sister Isabella bit Sookie and Sookie is a vampire dog now.
Adulthood
Edit
Beth attended a nigh college and temporarily moved to Norway. She came back and is to be eternally bonded to Josef in two months.
Current status
Edit
Lives with Josef and will be eternally bonded to him in two months.
OOC Information
Edit
Name:
Roleplay Wiki Name:
E-mail:
Instant Messages: