This is the forum where you request for your wiki or site to affiliate with RPWiki. In order to get affiliated with this wiki, follow these three steps:
Minimum requirements:

10 or more articles (or webpages in the case of a site)
More than 1 contributor (user/member in the case of a site)
At least monthly activity

Put the link to your site or wiki in User:Yatalu/Affiliations, under the appropriate header.
Make a new section in this forum, providing the following info:

Who you are, and what your site is (URL, name)
Your desire to affiliate with this wiki (+ optionally, why you think we should definitely affiliate!)
Description for your site — "X is a site about Y. It has Z members and has the additional function of ..."
Image of 200-250px wide and max 150px tall, to represent your wiki/site

Wait for one of the admins to put the above description in Role Play Wiki:Affiliations

Hope this is clear! If not, you can still use this page to ask for more information. Once your site has been put in Role Play Wiki:Affiliations, it is officially an affiliate of this wiki. :)
YATTA ヽ( ° ヮ° )ノ
☆ | 2014年04月15日、09:43:26
Writing and Roleplaying Wiki
Edit
Writing and Roleplaying Guild Wiki, Basically I was tired of feeling like I had to join 500 wiki's to rp everything I wanted to do and write and do fan fics and play games, etc. So I built this site to be a place where user's imagination can come to life with minimal limitations.
As discussed on Skype, because of the nature of our two wiki's, a relationship together would be most beneficial to both of us.
The Writing and Roleplaying Guild Wiki has 17 members and is growing daily. It is a haven for creativity, imagination and roleplaying. If you can dream it, imagine it, write it or have the desire to roleplay it this is the place for you.
124+ pages and growing daily
17 Users have edited in the last 30 days and growing weekly
Averages 10 to 100 edits a day
Thanks, Bachy :3 I put the wiki in Project:Affiliations.
YATTA ヽ( ° ヮ° )ノ ☆ | 2014年09月24日、02:21:33 
SeptimoDominusTantibus Wiki
Edit
Okay so to start, My name is Abel and on the Septimo Wikia I'm known under NavigatorAbel and I'm writing here on behalf of the Septimo community as an original standing member that has been a part of the RP since its creation in September 2013. Heres a link to our Wiki page (SeptimoWiki ) but in short we use our site as a place to keep our character profiles, upcoming quests, lore, history and just about anything else we can cram into our Roleplay world. We have several commited members who are all players in our story that help update and keep expanding our wiki every day to make it what it is today! The roleplay itself takes part on IMVU in the SeptimoDominusTantibus room and has been running just over a year now. We also try to keep personally in touch with out players through a Facebook page which can be found here as well as Skype and e-mail addresses. We like to keep in touch and keep our players up to date on all the news and what our plans for the month may be!
Secondly, We welcome players of all stretches and are currently reaching out to find some more regular players that would be willing to become part of our story as commited as past members and longer standing members have been. We advertise widely across just about any platform we can get our hands on however now is a better time to be looking deeper into Roleplay focussed communities and find others seeking long standing active Roleplay. Our mods are friendly and helpful players as well as commited to their positions in ship as well as helping greatly with the Wiki, We also feel that affiliating with such a wonderful page that is emmersed within the Roleplaying community will help us find many new players or entice those curious to try out new things and broaden their horizons. Septimo is not just a place to Roleplay and escape reality but is also a welcoming and friendly place in which we form friendships and enjoy the companionship of people from all stretches of the world.
Taking our site back to its basics the Wiki itself is used as a place to keep all our Rp related information as well as discussion boards for upcoming events and places to suggest events and quests. It is a site about the world of Morpheus where Septimo can be found upon the oceans. We have a handful of frequent uploaders however we encourage all who join the Rp to make a character page in order to feel part of the Septimo family. Some of our regulars are Anjeru9 (KuraEverettOutcast, Also the room owner), AudieAud (AudieAud), Planken (Kommunisten) and Cerianne (Cerianne).
And finally, A pretty picture.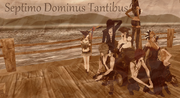 Thankyou for reading!
Abel.
NavigatorAbel (talk) 00:37, December 5, 2014 (UTC)
Bring Your Ideas to Life Wiki
Edit
Hello, I am Sonicfan919. The wiki that I wish for Role Play Wiki to become affiliated with is Bring Your Ideas to Life Wiki. As of this writing, the wiki is quite small and affiliation will attract more creative editors. Bring Your Ideas to Life Wiki would be a good affiliate for Role Play Wiki because roleplays can be carried out on Bring Your Ideas to Life Wiki and campaigns can be fleshed out and turned into a story format. A famous example of a RPG campaign being fleshed out into a story is the Dragonlance Chronicles Trilogy. In addition, some other articles that aren't allowed such as smaller character articles are perfectly fine on our wiki. Bring Your Idea to Life Wiki is a wiki where as the title suggests, you can post any type of creativity you have from stories, to poems, to rolepays, to songs with what you can post being limited to your own imagination. We are a very lenient wiki and do not have a universal content standard so no article will be deemed "bad" if you gave it your best shot! As of June 14th 2015 we have three active members, one-hundred-eighty-eight articles and one-hundred-eighty-three files.
Thank you for taking the time to read this requesr and we hope you consider.
.........
(
talk
) 18:59, June 14, 2015 (UTC)

Scandnávia Wiki
Edit
My community is about roleplays in the Portuguese language of Brazil. We are trying to increase the possibilities and we see that the affiliation will be very good to get more users and inspiration.
--guilhermemau 17:18, November 19, 2016 (UTC)