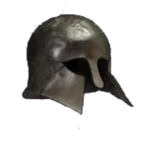 A helmet is a type of armor or protective headgear, to avoid head injuries caused by for instance attack or fall. Sometimes soldiers or other officers in their profession can also wear a helmet ceremonially.
Athletes, such as skiers or bikers, also often wear a helmet for protection against falling or bumping into something at high speed. One specific type of sports helmet is the stackhat.
Ad blocker interference detected!
Wikia is a free-to-use site that makes money from advertising. We have a modified experience for viewers using ad blockers

Wikia is not accessible if you've made further modifications. Remove the custom ad blocker rule(s) and the page will load as expected.