Sir Leo is a young kright.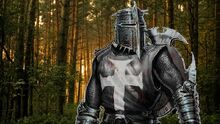 Sir Leo protects the Castle of turtle island. He is the king's best knight.
Sir Leo carries weapons such as swords,daggers,ball and chain but his main weapon is an axe.
Appearence
Edit
Sir Leo wears black armour and a black round helmet. His armour has white cross on it.
King Yoshi
Sir Mike
Donnie the wizard
Sir Raph
King Saki
Sir Franklin
Baxter the wizard
Sir Oso
Ad blocker interference detected!
Wikia is a free-to-use site that makes money from advertising. We have a modified experience for viewers using ad blockers

Wikia is not accessible if you've made further modifications. Remove the custom ad blocker rule(s) and the page will load as expected.