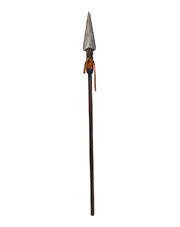 A
spear
is a physical weapon that allows the user to usually strike an enemy at a distance. Larger spears such as lances, can require a mount to use, while others, like a javelin, are meant to be thrown at the target. Spears typically have a longer range than swords but shorter than guns and other powered projectiles.
Ad blocker interference detected!
Wikia is a free-to-use site that makes money from advertising. We have a modified experience for viewers using ad blockers

Wikia is not accessible if you've made further modifications. Remove the custom ad blocker rule(s) and the page will load as expected.