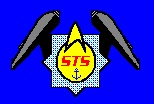 Star Trek Sims[1] (abbreviated STS) was a Star Trek sim club that existed on America Online from 1992 to 2001. It was noted for its recreation of Starfleet at all levels of the player experience, as well as for its detailed, tightly designed sims, and its utilization of sim masters.
In November 1992, Warin Trekker was introduced to simming on America Online. He quickly fell in love with simming, but did not like the random, free-for-all, sim he encountered. Possessing extensive D&D role playing experience, Trekker felt simming needed a game master to control the flow and outcome of events. After having attended only one sim, he decided to launch his own a weekly sim.
Initially, Trekker's sims consisted of fleet actions, in which multiple ships simmed together at the same time in the same chat room.  Trekker played the captain of the USS Phoenix. He also took on a game master role, which he termed the "enemy"- essentially the adversary of the week.
In 1993, Trekguru joined Trekker's sim. She enjoyed the role of the "enemey" so much that she took the role on full time.  Trekguru soon formalized the position, terming it as the "sim master."  She also developed a basic set of 18 rules for the sim.
Later that year, in November 1993, Beaufort N'fo (NFO) joined Trekker's sim as a cadet. A naval veteran, NFO believed STS would benefit from a structured, military feel that recreated Starfleet in all aspects of the sim. NFO wrote a guidebook and proposed organizational changes, which were quickly accepted.
In December, Trekker's weekly sim was formalized as the USS Royal Proxima.  NFO was given permission to spin off the ship he used during Trekker's weekly sim, the USS Lancelot, and develop it as a separate sim within STS.
During 1994 and 1995, STS expanded. Trekker trained and appointed new captains, Trekguru trained and assigned sim masters to each sim, and NFO kept track of overall membership. By 1996, STS fielded 6 sims.
In December 1996, America Online switched to unlimited billing, allowing its members unlimited online time a month. Previously, members had been limited to 5 hours of online time a month before incurring steep additional fees. This change unleashed a period of turmoil known as the Revolution of 1997 and disrupted STS's simming model, in which all missions had to be approved before hand. The economics effectively limited people to one ship, allowing STS to recycle sim plots or use the same plot on several ships at the same time. With unlimited billing, members wanted to sim on several ships within the club, but STS leadership responded by attempting to limit members to one sim.
In March 1997, Trekguru resigned from STS, and many members followed her, although the reasons for her departure were never made public. This was not unique to STS. Many clubs of the era broke apart as leaders had different opinions as to how to respond to the changes and opportunities brought about by unlimited billing.
Despite the loss suffered, unlimited billing brought new members to America Online, and filled STS with new simmers. Trekker and NFO were able to replace those who left. Mid level officers, including many lieutenants, were promoted to captain and sim master, infusing the club with new energy. M. L. Moses was one such person, rising to become a prominent sim master. The demands of unlimited billing forced STS to abandon the rule limiting members to one sim, and the club allowed sims and sim masters more leeway in their missions. By 1999, STS had reached new heights, running 6 chat sims and 3 email sims.
Decline and Collapse
Edit
Despite outward appearances, trouble lurked under the surface. Those who had risen during 1997 and 1998 came to realize there was a ceiling to their advancement. Trekker and NFO retained sole control over all major decisions, and any ideas that did not fit with their vision for the club were rejected. Discouraged, members began to leave and sims die off. By 2000, Trekker and NFO had largely burnt out on simming after running the club for a half dozen years, and took no major steps to rebuild the club. By the end of 2000, only one chat sim, the USS Lancelot, and one e-mail sim, the USS Harvard, remained active. In 2001, the USS Lancelot finally disbanded, and the Harvard is believed to have ended thereafter.
Star Trek Sims patterned itself on Starfleet. At all times in public, the leaders of the club presented themselves as members of Starfleet command. Sim captains would receive mission orders. Occasionally club wide emails concerning Starfleet policy would be distributed. When joining the club, members were guided through academy training sims, posted to a ship, and expected to formally report for duty. As members were promoted or received awards, a ceremony was held.
In addition to a sim host who served as the captain within the sim, each sim had a designated sim master who played the ships computer, NPC entities, and determined the outcome of events. The sim master was charged with developing and advancing the plot within the sim. This level of control made for tight, detailed sims and provided a level of realism not found in other sims of the era as both the captain and crew in an STS sim were clueless as to the outcome and could not steer the mission or determine events based on his or her own preference.
Known Sims
Edit
Name
Time
Commanding Officers
Sim Masters
Years Active
USS Legacy

Mondays

(Tuesdays in 1999)

Adm Mongol

Essgee

SM Apollo

SM Quad

ca 1996 - ca 1999
USS Camelot
Mondays
P. A. Bayhi
TERA13
ca 1999
USS Lancelot
Wednesdays

Beaufort N'fo

Jana Windstar

Chas Hammer

SM ZIR

TERA13

1994 - 2001
USS Ulysses
Fridays
PB1701
Trekguru
ca 1996 - ca 1997
USS Fearless
Fridays
JRR360
SM PB1
1995 - 1996
USS Intrepid
Saturdays
Dr Trek 1
SM Apollo
ca 1997

USS Royal Proxima

(originally USS Phoenix)

Saturdays
Warin Trekker

Trekguru

WMC3

1992 - ca 1999
USS Fearless II
Sundays
JRR360
SM PB1
1996 - ca 1997
USS Brittania
Sundays
Zaren Cox
ca 1999
Deep Space 23
Sundays
Argus Nishan
M. L. Moses
1998 - 2000
USS Harvard
E-mail
Daman Kirk

JRR360

Trekguru

Cendan

ca 1996 - 2001
USS Ranger
E-mail
Tera Patriece
BenK
ca 1999
USS Alamo
E-mail
Raien Lourn
BenK
ca 1999
During his five years as President of Trek Online, Chas Hammer anonymously served in STS, slowly rising from cadet to command of the USS Lancelot. He credited his time in STS with providing him a weekly reminder of what it was like to be a regular member of a sim club. He was heavily influenced by STS's concept of the sim master and introduced it to TOL. He also experienced the breakup of STS first hand and the vague reassurances its leaders attempted to provide in response, convincing Chas the best way to respond to crises and rumor in simming was for the leadership to provide full disclosure, a tactic he used throughout his career.
References
Edit
↑ Unless otherwise noted, all material in this article comes from Chas Hammer. Chas was a member of STS from 1996 to 2001. The information contained in the article is derived from STS newsletters and other materials Chas has saved. A further source of information for this article comes from a series of interviews Chas conducted in 1998 with Trekker, NFO, and Trekguru.