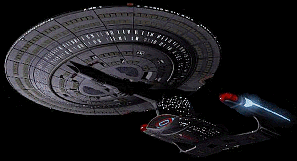 USS Orion
NCC-5019
Orion Class Starship
Flagship of Trek Online, 1996 to 1998
"Silently, one by one, in the infinite meadows of heaven, blossomed the lovely stars, the forget-me-nots of the angles." - Longfellow, from Evangeline
The USS Orion, NCC 5019, was an Orion Class starship under the command of Admiral Charles de Mars aka Chas Hammer. It was a chat sim on the Classic Prodigy online service from 1996 to 1998 in the Trek Online sim club, and was the flagship of TOL while it was in service. It's long time first officer, Commander Grey Jones, lived only a mile from Chas - but amazingly the two of them did not realize this until they had been simming together for over a year.
The Orion started as an unaffiliated, unofficial sim that would make appearances whenever Chas and enough of his simming friends were online, but it was converted into a regular, weekly sim when Trek Online was founded. At various times the Orion simmed on either Tuesday or Friday nights. It was one of the few successful chat sims on Classic Prodigy, and it enjoyed steady attendance from a dedicated core of people, supplemented each week with new vitality by a random person or two who walked in.
The crew formed tight bonds and overlapping, in-depth story arcs. The sims were nothing short of magical with a mix of creativity, emotional relationships among the crew, and perfect timing - comedic and heroic. Sims within the sim added rich diversity. The Orion tag teamed with a Defiant Class ship, the USS Monitor commanded by Jedifire, and frequently patrolled the Cardassian border where it worked with Viper Flight and The Elite developed by Cosari Shane. For a complete history of the Orion's sims, please see Chapter 27 of My Simming Memoirs.
By the fall of 1998, however, Classic Prodigy was a dead service on its way to being shut down. Its hundreds of chat rooms sat empty, and most of the crew of the Orion had moved to AOL and joined Trek Online sims there. Chas could have moved the Orion to AOL, but the magic had played out and the crew had moved on. He didn't want to risk the Orion turning into a second rate sim, so he canceled it in October 1998 and transferred his flag to the USS Vindicator.
Ad blocker interference detected!
Wikia is a free-to-use site that makes money from advertising. We have a modified experience for viewers using ad blockers

Wikia is not accessible if you've made further modifications. Remove the custom ad blocker rule(s) and the page will load as expected.