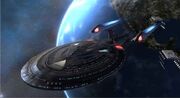 Welcome to the USS Shadow
Edit
Want to welcome you to the USS Shadow, NCC-85731 a Sovereign-class Starship. My name is Captain Yoshi Baldwin-Webb I am the Commanding Officer of this fine ship. This sim is a 18+ age restriction.
It's the year 2390, Romulus and Remus are no more and it's a time of change for the Federation and the rest of the Galaxy. The USS Shadow Starship operates in the Ares Sector of space, which lies close to Klingon, Romulan, Gorn, and Krazzle territory as well as open space and the unclaimed 'Triangle', home to Pirates and Criminals, has become key to the Federation's future.
If your looking for an adventure then the USS Shadow is the place for you. Please feel free to look around if you find something you like please join!
Positions Needing Filled!
Chief Operations Officer
Chief Diplomatic Officer
All Assistant Chief Positions Available if you don't find a Chief spot you are looking for!
USS Shadow History
Edit
USS Shadow III (SP-102)
Edit
USS Shadow III (SP-102) was an armed motorboat that served in the United States Navy as a patrol vessel from 1917 to 1919. Shadow III was built as a civilian motorboat in 1916 by the Purdy Boat Company, at Miami, Florida. The U.S. Navy purchased Shadow III from Purdy on 12 June 1917 for use as a patrol boat during World War I. She was Ship commissioning on 4 September 1917 as USS Shadow III (SP-102) with Ensign (rank) Charles D. Mack, USNRF, in command.
Shadow III patrolled the Florida coast off Miami during World War I. After the war, she acted as an aircraft crash boat for Naval Air Station Miami, Florida.
Shadow III was Ship decommissioning at Miami on 25 January 1919. The Navy delivered her to the Marine Corps Recruit Depot Parris Island at Parris Island, South Carolina, South Carolina, on 1 August 1919 for further non-commissiomned service. In December 1919, Shadow III was taken to the Charleston Navy Yard at Charleston, South Carolina, for survey. She was sold on 5 August 1921 to Mike Letiff of Charleston.
Previous Ship's Named USS Shadow
Edit
The construction of the USS Shadow, began in the mid-late 24th Century. Originally planned to be an Akira class cruiser, this ship was then made a Sovereign. The reason for this was that with the Dominion War finally being over, Federation resources started to replenish. Also, originally to be named the USS Fortitude, the ship became instead the USS Shadow after Captain Perrusio took command.
Shortly after, the USS Shadow NCC-51585-A, in her actual incarnation as an Intrepid class ship was commissioned, after the premature destruction of the original one. The USS Shadow was then transferred to the 4th Fleet and assigned to Task Force 38. It was there that Perrusio received his promotion to Commodore and would take position as Task Group Commanding Officer for Task Group Alpha.
After Commodore Perrusio retired, taking his place was R'alka Grenn, who served at the time as ship's Executive Officer. Grenn would bring a great deal of prosperity to the Shadow, and held the position for some time. Due to outside circumstances, however, Commodore Grenn was also forced into retirement.
The next Commanding Officer of the Shadow would come after Lieutenant Commander Jonathan Sumpter, long-time member and Grenn's Executive Officer, he took command for the late Commodore. Under his command the Shadow saw a rise in the ranks under the now promoted Commodore Sumpter to Task Force Second Executive Flagship.
03/01/2382
Commodore Jonathan Sumpter is finally re-united with the USS Shadow and his crew after some time away on a short classified Intelligence operation. During his absence the Shadow's crew was temporarily assigned to the USS Maelstrom and ordered to deliver a Dominion Founder that was held as a prisoner of war back to Dominion space. Upon arrival and rendezvous with two Dominion warships the Founder was found dead. Commander Sorenson was taken prisoner due to the murder occurring under her command. Upon re-uniting with Commodore Sumpter the crew returns to the new Kelvin-refit Shadow. Intent on rescuing his first officer, the ship jumps to the Gamma Quadrant and moves forward in an unauthorized,half-baked rescue mission.
Commodore Jonathan Sumpter goes into a blackout radio silence and defies orders and goes on that rescue mission but in the mean time he was selected to become the new Chief of Staff of Task Force 38. Seeing that most of the Task Force was in the Alpha and Beta Quadrant the new exploration program was off to a slow start and the three key personal are no where to be found in the Delta Quadrant but that does not stop Starfleet from assigning new ships to the Delta Quadrant.
05/13/2382
For the third month in a row there was no word from the USS Shadow and Commodore Jonathan Sumpter. Last reports had the Shadow over in the Gamma Quadrant. But the reports are still unconfirmed at this time since know one is able to track the movements of the USS Shadow at this time.
07/21/2382
USS Shadow under the command of Commodore Jonathan Sumpter reports in with Starfleet and sets course for the Raeyan Sector to assume his new role as Chief of Staff of Task Force 38.
In late 2383 the USS Shadow, along with the rest of Task Force 38 engaged the Borg in a devastating battle. The result was the loss of many Federation ships, including the Shadow (NCC-51585-B), as well as the collapse of the Omega field, and the Iconian Gateway. The next Shadow would come in the form of yet another Intrepid-class: the USS Shadow NCC-51585-C. In early 2384 the USS Shadow moved over to Task Force 72.
In February 2384 the Shadow was to become the flagship of Task Force 21 under the command of Rear Admiral Jonathan Sumpter. Late in 2384, Rear Admiral Sumpter was promoted and his first officer, then Commander Halaris Imorious was promoted to Commanding Officer. Shortly after she was to be promoted again to Captain and served a brief stint as a Task Group Commanding Officer until a quick reassignment to Task Force 58.
In 2385 Starfleet Command, would reassign the Shadow once more, this time to Task Force 86's Task Group Trident after being offered the position of Task Group Commanding Officer.
After a few years the Shadow was re-assigned back to the Task Force 58 where Captain Halaris Imorious stepped down from Command. Starfleet Command decided to re-commission the USS Shadow as NCC-76595. A new Commanding Officer was re-assigned to the Shadow: Lt. Commander Christopher Dennis. Once the Assistant Chief Medical Officer aboard the ship, he was happy to jump straight back on board and take command.
Previous CO's
Commodore Perrusio.
Rear Admiral R'alka Grenn
Rear Admiral Jonathan Sumpter
Rear Admiral Halaris Imorious
Captain Christopher Dennis
USS Shadow NCC-85731
Edit
On February 2390 the newest USS Shadow became commissioned with new upgrades including a Quantum Slipstream Drive and a complete refit. She is currently docked at Starbase 400 while they finish these upgrades. The USS Shadow has been assigned to a newly promoted Captain Yoshi Baldwin-Webb and she has been assigned to Task Force 94 with Admiral Mike K'Wor Bremer and Starbase 400 is the Flagbase for the Task Force. Her mission is to patrol and protect the area from enemies.
Missions
Edit
Mission 1: Settling In - While the USS Shadow finishes her refit/overhaul the crew of the USS Shadow check in and enjoy some R&R until the refit is complete and they can start there maiden voyage.
Mission 2: Pirates, Oh My - The USS Shadow disembarks from Starbase 400 and starts out on her test run of the new systems, when they receive a distress call coming from inside the "Triangle,' from a Bolian relief freighter on it's way to the edge of Krazzle space. They are being attacked by a group of pirates and has very little weapons to defend them selves.
They answer the call and head deep into the 'Triangle' near Pirates Haven. What will happen when they arrive? Only the time will tell how this could end. Will the Shadow defeat the Pirates and they leave and they can help the Bolian captain out with repairs? Will the Captain be in with the diversion? only time will tell.
Crew Manifest
Edit
PC Characters
Edit
Commanding Officer: Captain Yoshi Baldwin-Webb (Human/Betazoid Female)
Executive Officer/Chief Intelligence Officer: Commander David Webb (Human Male)
Second Officer/Chief Engineering Officer: Commander William Maxwell (Human Male)
Chief Flight Control Officer: Lieutenant Commander Mike (M'i'kee) Winterlyn (Xenexian Male)
Chief Strategic Operations Officer: Lieutenant Commander Joesph "Joe" Pike (Human Male)
Chief Security/Tactical Officer: Bajoran 1st Lieutenant Drex Anjar (Bajoran Male)
Boatswain: Staff Warrant Officer Erik Stone (El-Aurian/Human Male)
Chief Science Officer: Lieutenant Commander Savok (Vulcan Male)
Biologist: Lieutenant Junior Grade Aabrak Duka (Cardassian Male)
Chief Medical Officer: Commander Celeste Yamaguchi (Human Female)
Chief Counselor: Lieutenant Junior Grade: Jaina Granger (Human/Trill Female)
Marine Detachment Commanding Officer: Marine Captain Daisy Ruhr (Human/Klingon Female)
Civilian Child: P'Rinn (Caitian Male)
NPC Characters
Edit
Security Officer: Ensign Jenny Wild (Human Female)
Computer System Specialists: Romulan Lieutenant Rhiana Hwaehrai (Romulan Female)
Medical Officer: Emergency Medical Hologram (EMH) (Hologram Male)
Infiltration Specialist: Lieutenant James Sheridan (Human Male)
Marine: Private Ryi Amlari (Andorian Female)
Civilian Child: Jadzia Webb (Human/Betazoid Female)
Civilian: Nicole Morgan (Human/Betazoid Female)
Ad blocker interference detected!
Wikia is a free-to-use site that makes money from advertising. We have a modified experience for viewers using ad blockers

Wikia is not accessible if you've made further modifications. Remove the custom ad blocker rule(s) and the page will load as expected.